I get it. Final Fantasy X-2 (FFX-2) is nearly 20 years old. The remaster came out about 8 years ago. In video game time, that's absolutely ancient.
Games continue to be released. Apex Legends and Valorant dominate Twitch streams. And yet, I have the mind to Stream FFX-2 on Twitch in 2022.
While Twitch categories show not a lot of interest, I'm convinced that FFX-2 is NOT dead in 2022.
Here is why:
Google Trends shows FFX-2 is Not Dead
The best way to gauge interest in a game like FFX-2 is by checking Google Trends.
Below is a screenshot of my results for interest in 'Final Fantasy X-2' the video game: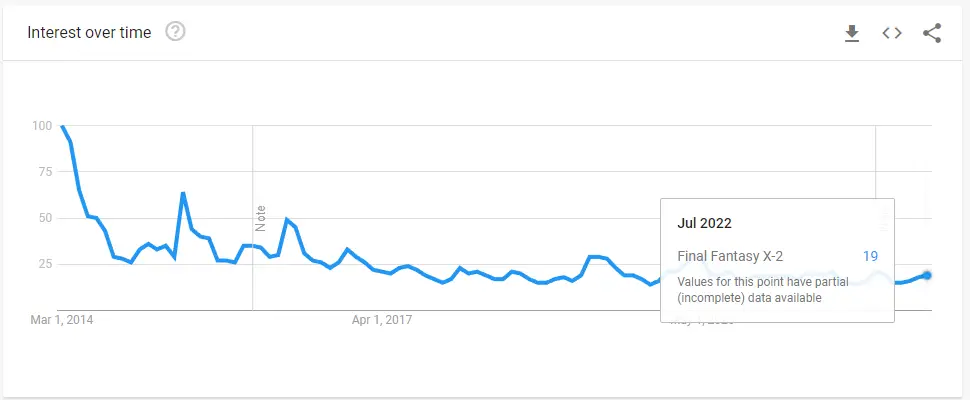 The above screenshot depicts a line graph from March 2014, which is the release of Final Fantasy X / Final Fantasy X-2 Remaster.
This month, the estimated number is 19 out of 100, with 100 at the beginning — the release of the remaster.
FFX-2 is Most Relevant During a Release
You can see spikes in interest with each new release to a console. In 2015, FFX-2 is released for the PlayStation 4. That is the next biggest spike from the first release on the PlayStation 3.
From there, interest jumps in small waves. The most recent release for the Switch in 2019 produced a small bump. Then, in March 2020, during lockdown, there was another surge of interest.
With each release, the surge of interest becomes smaller and smaller.
FFX-2 is Least Relevant During the Holiday Season
At the time of writing this article, interest in Final Fantasy X-2 is at 19 compared to the original release of the Remaster. This number is low. But relatively speaking, it's not 'dead'.
For comparison, interest was lower in November and December 2017 through the present, likely because that is the season for hype about new game releases and the shopping season.
Put in another way, interest for FFX-2 has remained steady for the last 5 years. The game is not any more 'dead' today than it was in 2017.
FFX-2 Blog Posts are Getting Traffic
I can attest — I've been writing blog posts about FFX-2 just this year as I've been streaming the game on Twitch.
You might think that everything's been written about, exhausted, and discovered. I'm finding that I can still find relatable material and strategies to share, and people are looking up these things right now.
As we speak, thousands of people are actively playing FFX-2.
FFX-2 Haters Are Coming Around
I was an FFX-2 hater, and it has taken me years upon years to come around to the game.
When the remaster came out, I played FFX only. Now, several years later, I've exhausted FFX and find that I'm looking to FFX-2 thinking to myself "Is it really that bad?"
Players everywhere are having that moment, too — people who loved FFX and never gave FFX-2 a chance. But they are still alive and FFX-2 is still waiting to be discovered.
FFX-2 Has Replay Value
Throughout the years, I've returned to FFX-2 again and again. The game is notoriously hard to get 100% and the perfect ending. It has been nagging at the back of my mind.
And then I finally had the moment I decided to take the plunge. You only live once.
While this argument is purely speculative, I do believe that if I'm actively playing FFX-2, finding it fresh, fun, and living on in my mind, I know that others feel the same.
And if you feel the same too, I hope you one day visit me in my Twitch stream to see what good JRPGs are all about.