What are the best JRPGs on Switch? We reviewed these popular character-themed games to find the top choices to play for JRPG fans.
Our favorite picks include games with fantasy worlds, unique stories, epic battle scenes, impressive art style, and a large variety of characters.
JRPG is a well-established game genre that spans nearly two decades, including the popular Final Fantasy, Dragon Quest, Tales, Megami Tensei, and Dragon Ball, among the top franchise games on the market. It's a popular game genre developed with decades of technology and gaming consoles.
If you love JRPGs as much as I do, you'll also enjoy my Twitch stream.
About Square-Enix
Many of our top games are developed by Square Enix Holdings, a Japanese entertainment company best known for RPGs such as Kingdom Hearts, Final Fantasy games, and Dragon Quest.
While our focus includes all-time classic JRPGs, we also reviewed new and upcoming games, including other JRPGs with great playable characters that offer an overall excellent game.
The perfect game can easily lead to endless hours of gameplay, with solid story elements, which combines the best of older games with the modern era of advanced technology and top-notch gaming consoles, like Switch.
Nintendo Switch is one of the best ways to enjoy JRPGs, whether your favorite fantasy involves dungeon crawling, a dragon warrior, or political intrigue, among other exciting themes, including the classics adapted to the Nintendo Switch version.
1. Best Adventure-Based JRPG: Dragon Quest XI S (Definitive Edition): Echoes of an Elusive Age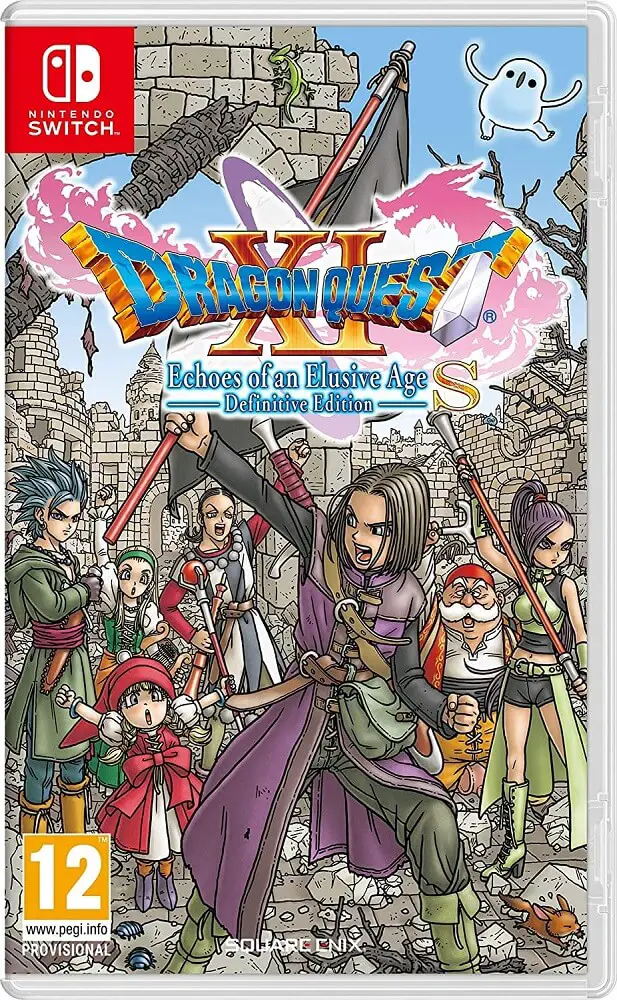 The Dragon Quest series is a fantastic game for all player levels, including beginners to JRPG and long-term fans of the game.
The newest version of the franchise, the Definitive Edition Dragon Quest: Echoes of an Elusive Age, gives you the option of playing in 3D, which is the game's original form, or you can switch to the retro 16-bit style of graphics, depending on your preference.
Dragon Quest XI S Echoes of an Elusive Age is a long-running series that offers a unique combat system and a great main story, and it's considered one of the most amazing JRPGs to play on Switch.
Here are a few main features of Dragon Quest XI:
There are bonus characters and stories included in the Definitive Edition
You'll have access to two versions, which include a 16-bit retro style, like the previous game, and the HD version, in which you can easily switch between each mode
The characters are well-developed and beautifully designed
You can capture memories of your favorite scenes with the Photo Mode option
Overall, we found the entire Dragon Quest series a top choice for the Nintendo Switch console, whether you begin with the original game to get familiar with the format and design or jump right into the newer versions of this series.
One of the main attractions of this game is the good versus evil theme, which dives into the Kingdom of Alefgard, obliterated by Dragonlord, and the journey of Eric to find the Sphere of Light as the hero who saves the world.
This JRPG's art style was created by Akira Toriyama, the same artist who designed Dragon Ball, another great reason to explore the entire Dragon Quest series.
In addition to providing lots of content, great design, and side adventures for your characters, Dragon Quest XI S is one of the longest JRPGs available, so you'll have many hours of play.
2. Best Strategic JRPG: Fire Emblem: Three Houses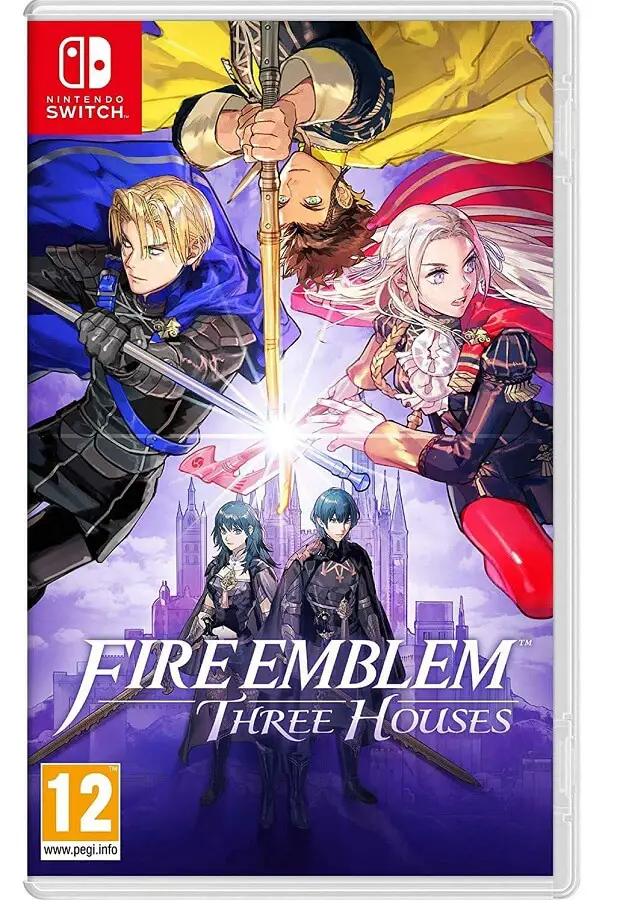 Fire Emblem: Three Houses is a strategic, action-packed RPG that initially hit the market in 2013 and has quickly grown in popularity.
What makes this a must-play game is the playable characters, appealing qualities, and unique developments that make this RPG a worthwhile play.
The Fire Emblem series was a top seller in Japan for a while before becoming a major hit in the United States.
The game centers around three houses: Blue Lions, Golden Deer, and Black Eagles, each of which is comprised of a group of students that uniquely impact the story's development.
The idea of the game is to control Professor Byleth at the Garreg Mach Monstery and choose a house to train for battle. This choice is just the beginning of your plan, which involves tactical, and strategic thinking to build your epic battle system.
It's both challenging and rewarding, and the Fire Emblem series offers hours of great entertainment for all playing levels.
A few highlights of this game include:
A unique twist on a traditional battle-turn-based combat system gives you more room for strategizing, training, and developing special skills, weapons, and magical powers. You can also form teams of soldiers and support them as they engage in battle
There is more opportunity for tactical planning in this action RPG
You'll find the game's characters are well-developed throughout the Fire Emblem series
While many games focus on building an arsenal of weapons and powers to battle, Fire Emblem: Three Houses focuses on how students interact with each other, political strategy, and academic advancement in the school.
Every action or decision impacts the overall quest in the game, making it both fun and challenging.
3. Best First Game for JRPG for Beginners: Final Fantasy XII The Zodiac Age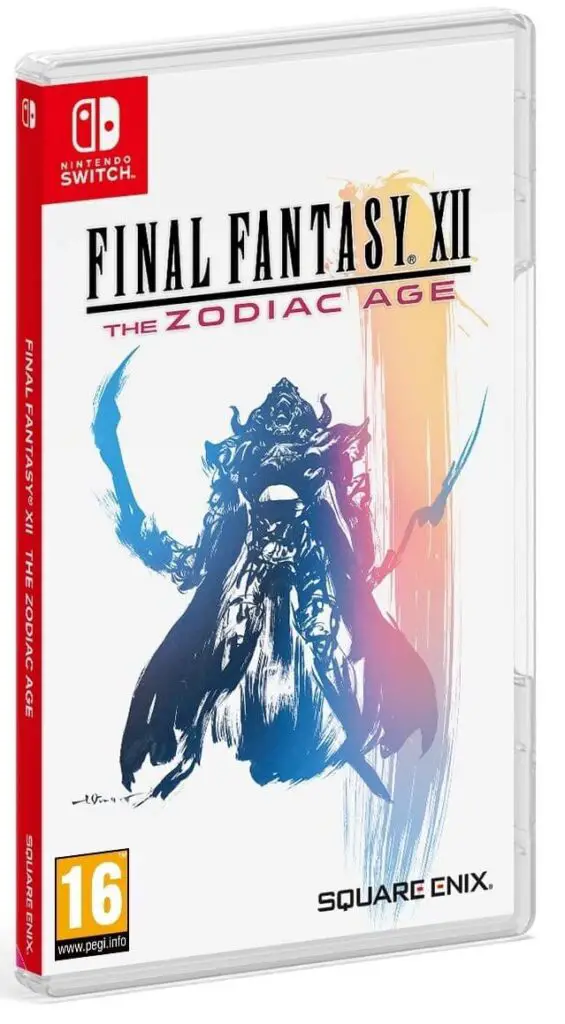 The Final Fantasy series is one of the best JRPGs for Nintendo consoles, including the Switch.
It's also one of the most adaptable games, which has evolved significantly over the past decade, with continuous improvements and changes, including a significant shift from the previous combat system with a stronger focus on character development with more customization.
This fantastic feature is implemented by the Zodiac Job System, which allows players to control more details about their characters and speed up battle scenes so that they can get through them quickly.
Here are a few main features of this game:
You can choose to play in Trial Mode, which allows you to take on more battles and enemies in nearly one hundred combat scenarios
Speed Mode allows you to move quickly through the game, which is ideal once you get more familiar with the process and want to advance faster
The Zodiac Job System gives players more customization options
You'll enjoy the most up-to-date graphics in HD, including remastered movie scenes and characters
Our main reason for choosing Final Fantasy XII The Zodiac Age as a top Nintendo Switch game?
It's an all-time classic JRPG that continues to impress fans with new and innovative developments with every new version.
Final Fantasy games are among the top JRPGs for many fans, from beginners to experienced, advanced players.
It's a great option as a first game if you're getting familiar with RPGs, whether you start with the original Final Fantasy game or the more recent versions.
4. Best Graphics and Animation: Ni no Kuni: The Wrath of the White Witch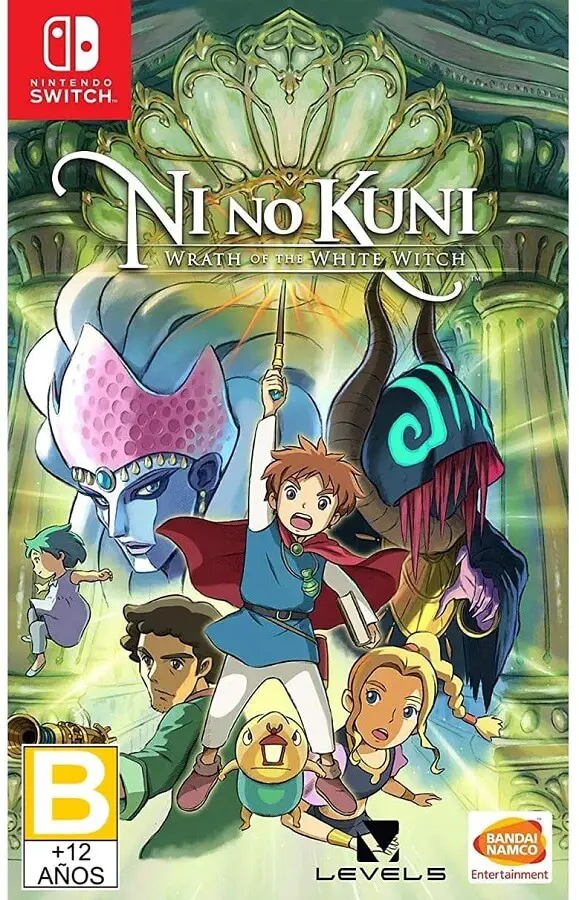 Wrath of the White Witch is a wonderfully crafted tale of Oliver. He begins his journey through a dangerous fantasy world with spectacular art style and creativity throughout the game.
Like most JRPGs, you'll enjoy the impressive detail throughout the game, with spectacular animation created by Studio Ghibli, famous for Spirited Away and My Neighbor Totoro.
The story follows the young boy's obstacles and battles throughout his journey so that he can bring his mother back after an accident.
Our top reasons for choosing this game as a top JRPG for Nintendo Switch include:
The animation, created by Studio Ghibli, is beautiful, with an impressive soundtrack composed by Joe Hisaishi
You'll have a variety of locations, scenes, and exceptionally designed elements to explore and interact with during each quest, battle, and throughout the journey. It's one of the best adventure-based JRPGs available on Nintendo Switch
A significant reason that many fans love this game is the Pokemon-style strategy where you have to capture or collect creatures as a resource that helps you in battle as you face new challenges throughout the game.
It's a fantastic game and one of the best Nintendo Switch JRPGs where you can enjoy master-level storytelling with top-notch graphics and animation throughout the game.
5. Best JRPG Series: Xenoblade Chronicles Definitive Edition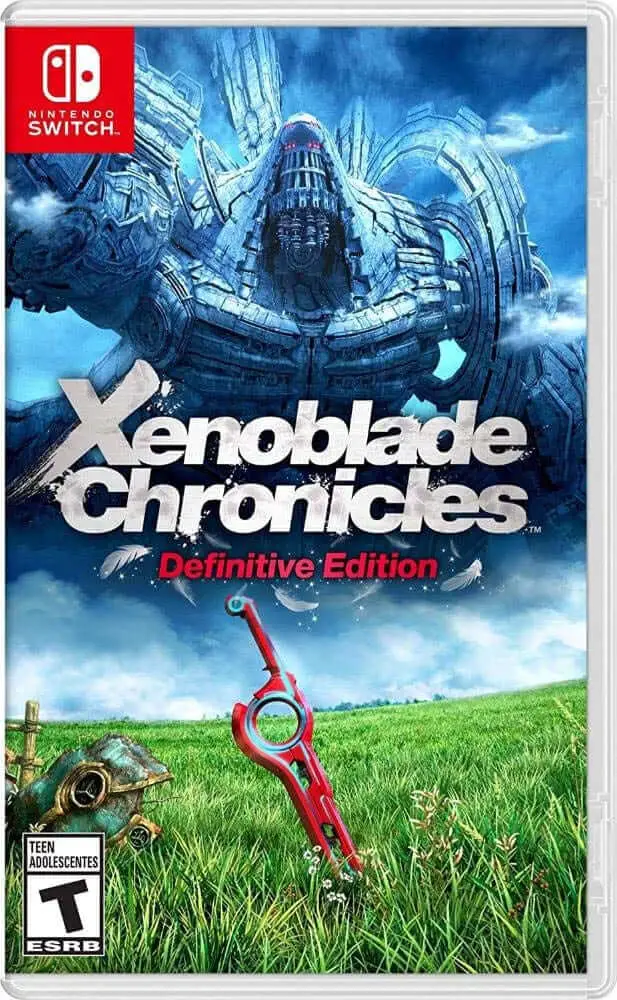 The Xenoblade Chronicles Definitive Edition series is a must for Nintendo Switch players, which includes Xenoblade Chronicles 2, which features an exciting plot that will keep you playing for hours.
Like the series' previous games, this game centers around a complex yet intriguing storyline where entire communities and civilizations are developed on the backs of enormous creatures or giants called titans.
As the plot develops, Rex, the main character and an avid explorer, discovers a living weapon, who joins him to battle against enemies while discovering and solving a central mystery that affects their world.
The Xenoblade Chronicles series has enjoyed great success due to its well-crafted revisions and remasters over the past decade.
There are many levels of action and scenarios to explore throughout the game, including the following:
You can explore various environments, including desecrated towns where very few characters survive, dense jungles and forests, robotic creatures that feed on characters, and floating islands, among many other spectacular visuals and interactive battles
In some scenes, players can enter particular creatures and fight from inside while battling menacing monsters set to destroy communities
Aside from the incredible design and storyline, Xenoblade Chronicles Definitive Edition features a fantastic soundtrack and developments that are unique to this game, making it nothing less than a masterpiece
We found the game ideal for fans looking for an adventure in the world of JRPGs, where you meet and acquire companions who join you in the battle against enemies while working through various mysteries and complex developments in the plot.
While the storyline feels a bit complicated at first glance, Xenoblade Chronicles 2 or any of the games part of the Xenoblade Chronicles Series will keep fans engaged for hours of fun.
6. Best Remastered JRPG Classic: Shin Megami Tensei III: Nocturne (Remastered in HD)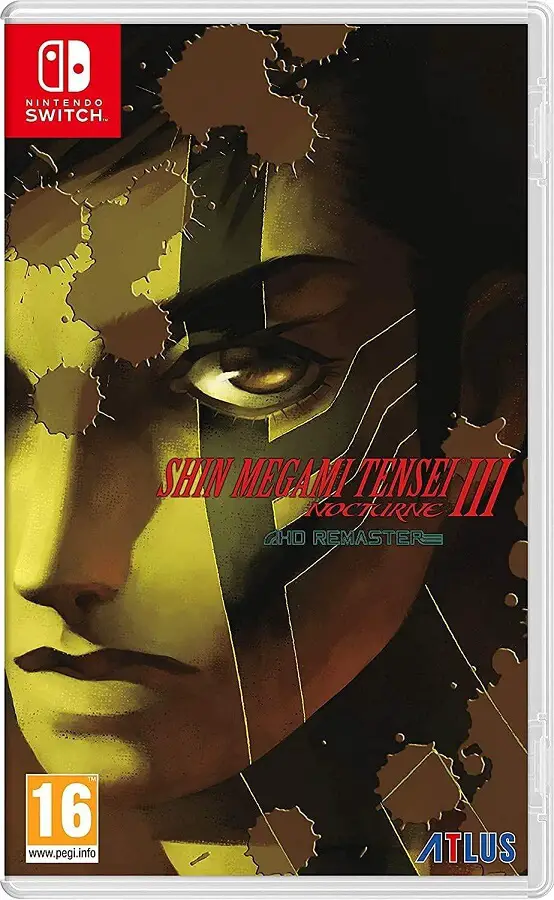 The Shin Megami Tensei series is a classic based in a post-apocalyptic Tokyo.
The story follows a young boy who acquires special powers from Lucifer and must decide how to use them to fight evil, build a team of demons to battle with, and determine which characters will take his side or fight against his cause.
If you're looking for a challenge, you'll have the option to adjust settings for more difficult skill levels and quests
It's easy to save your progress anytime during the game so that your most recent achievements are stored
Shin Megami Tensei III features remastered 3D backgrounds and models
YOu'll have access to an alternate branch in the Chronicle Edition of this JRPG, which features Raidou Kuzunoha
Shin Megami Tensei III: Nocturne remastered in HD incorporates elements of outdated characteristics into a modern version for your Nintendo Switch console.
If you're already a big fan of Shin Megami Tensei, you'll want to dive into this remastered version of the popular JRPG.
7. Best JRPG With a Simple Storyline: Monster Hunter Rise
Monster Hunter Rise is one of the best Nintendo Switch JRPGs with a simple storyline that focuses on battling monsters approaching the Kamura Village to avoid an impending apocalypse.
As monsters are defeated, various parts of their remains are repurposed as weapons and tools for hunting for survival.
It's a versatile game that isn't complex and allows fans to play solo or with other players for a greater chance of winning battles and developing strategies throughout the game
You'll have access to up to fourteen weapons, which are customizable for each player or team to develop a signature combat system
This game has many new developments and introductions, including new monsters, shape-shifting, amphibious, and other unique creatures
You can add hunting partners, including canine friends, and personalized strategies to tackle various terrain, attack strategies, and challenges, which include scaling, climbing, and aerial views and actions
You'll have several hunting options, including solo treks, joining a team of other hunters, and adapting for various locations and scenarios.
There are also multiplayer quests, fun puzzles, secrets, and other discoveries throughout the story.
Other JRPGs You Might Want to Try on Your Nintendo Switch
Toyko Mirage Sessions #FE Encore is a fun and chaotic mix of elements from Shin Megami Tensei and the Fire Emblem series for a Tokyo-based adventure RPG that involves teenage J-pop stars who must fight and conquer evil.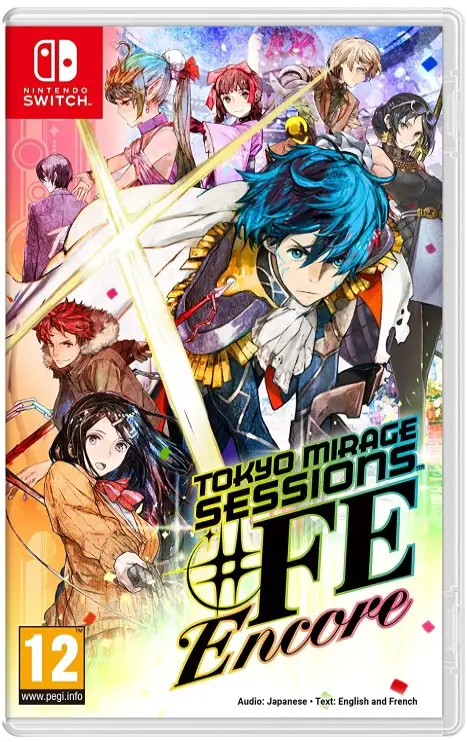 It's an unlikely plot that works and infuses a lot of cultural and anime-style graphics throughout the game.
It's a critically-acclaimed game with an advanced version for Nintendo Switch.
The JRPG is set in futuristic Toyko, rich in Japanese pop culture, and includes a turn-based battle system that blends high-quality graphics similar to Shin Megami and Persona.
You'll want to try Toyko Mirage Sessions if you're looking for a game that deviates from the more strategic, complex, and layered approach presented in other JRPGs.
The first JRPG game created for Nintendo Switch, I Am Setsuna, is a classic that inspired many top new role-playing games, with lots of inspiration from Chrono Trigger and the Final Fantasy series.
I Am Setsuna is one of the most fantastic games for fans who enjoy nostalgia with beautifully designed graphics and a great story.
It's the type of game that will feel familiar, especially if you've played other JRPGs, with an impressive art style and emotional, thought-provoking characters and storyline.
This great classic offers a compelling story with an exceptional art style and a focus on character development more than battles and combat strategy, like other JRPGs.
You'll learn much about the game as you play, making the overall experience more involving and enjoyable than other Nintendo Switch JRPGs.
While this is one of the more heavy Nintendo Switch JRPGs, it's easy to get involved with the exciting battle system and exceptional designs throughout the game.
Ultimately, you'll find our top JRPG picks offer layers of complex, fun, and challenging storylines and combat systems for hours of entertainment.
Summary: Choosing the Best JRPG for Your Nintendo Switch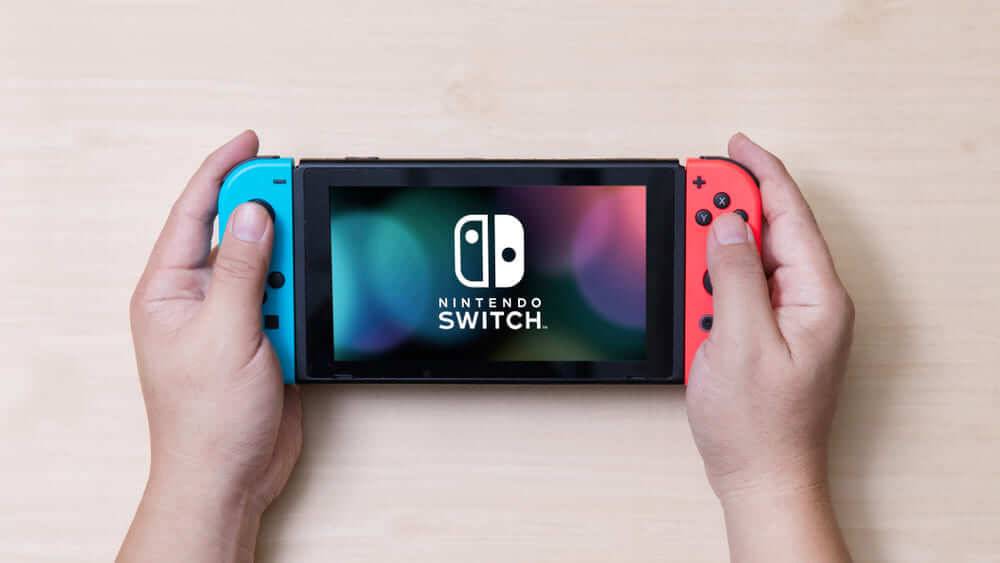 Japanese role-playing games have been among the top choices since Nintendo consoles became popular decades ago.
From handheld devices and 16-bit graphics to enhanced, remastered HD versions currently available, you'll find many fantastic games, including the Dragon Quest series, Xenoblade Chronicles, and the Final Fantasy games, and great features, including the Zodiac Job System.
Nintendo Switch JRPGs are well known for high-quality, beautifully crafted graphics, animation, and soundtracks to give you hours of play.
Nintendo Switch is the ideal platform for JRPGs, including traditional and newly revised versions of every top series, whether you're just getting started on Final Fantasy VII or curious about giving I Am Setsuna a try.
This console allows you to enjoy role-playing games on the go or at home, so you can share and discuss characters, worlds, and quests with friends and collaborate on various battles and strategies.
Whether you prefer solo battle strategies or creating teams with customized weapons, you'll enjoy hours of playing combat systems.